---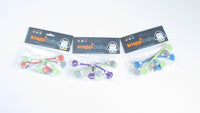 Snappi
Fruit of the Womb Diapers
PRODUCT DESCRIPTION:
Create a Snug Fitting Diaper WITHOUT PINS!
The best Cloth Diaper Fastener in the world!
The Snappi® Diaper Fastener revolutionized cloth diapering over 26 years ago! This all-in-one diaper fastener offers a practical and reliable way to fasten a cloth diaper. It is the cloth diapering necessity that "PULLS IT ALL TOGETHER."™
NO LATEX     NO SILICONE     CPSIA COMPLIANT
Snappi®s are made from a stretchable non-toxic material. Their T-shaped stretchable arms have grips on each end, which hook into the diaper fabric ensuring a snug-fitting diaper with enough natural movement for baby's comfort. A cover is essential over the Snappi® fastener to prevent it from catching onto something and coming undone.
BENEFITS OF SNAPPI®:
The BENEFITS of the Snappi® include:
SAFER THAN PINS – no more pinpricks for baby or parent!!
RELIABLE – creates a snug fitting diaper to prevent those dreaded leaks
ECONOMICAL – allows for a less expensive cloth diapering system with regular prefold/flat diapers
SIMPLE – only one item needed to fasten a diaper, which can be done with one hand
EASY to use – allows first time parents, grandparents and people with arthritic problems to cloth diaper with ease.
It is as easy as 1 – 2 – 3
Snappi®s are available in 10 colors: White, Mint, Pastel Pink, Pastel Blue, Dark Blue, Purple, Dayglo Yellow, Dayglo Pink, Dayglo Green and Dayglo Orange
IMPORTANT NOTE: A Snappi® is NOT A TOY and should be used only as intended. It must always be fastened onto a baby's diaper by an adult.
WARNING: Do NOT use a Snappi® on a child who is able to undo it or remove their diaper/diaper cover/clothing.